We have immediate openings in our Independent Living community. Call us today to learn more and to schedule a tour.
Senior Living in Troutdale, OR
Personalized, Exceptional Care
Cherry Park Plaza, located in Troutdale, OR, just east of Portland, supports three levels of senior living. First, independent living provides active seniors a lifestyle of support and ease of living in a private residence as part of a community. Second, assisted living transitions a senior who needs extra personal care around the clock. And third, for seniors who have dementia and need a secured living situation, memory care provides all aspects of assisted living from caregivers who understand the nuances and needs of people suffering from dementia. Our Senior Living care in Troutdale, OR, offers the perfect mix of personal care and hospitality tailored to meet the individual needs of residents. At Cherry Park Plaza, we believe that residents should maintain control over their life choices, seek new opportunities to enrich their lives, and enjoy each day to the fullest. We want to be a supportive force that brings great customer service and exceptional care each day.
Come Enjoy the Easy Life!
You'll love how our friendly and relaxed atmosphere makes it easy to meet new friends and fill your day with a number of fun and engaging activities. Located close to premier shopping, dining, and medical services, we offer all the things you need to fill your days with fun and give you peace of mind. Our activity programs offer many choices both on site and out on the town, so whether you like cooking, art, crafts, exercising, or just visiting with friends and neighbors, you stay as busy as you want to be. Cherry Park Plaza creates a place you'll love to call home – so come enjoy the easy living!
Read reviews for Cherry Park Plaza on FamilyAssets.
We're Always Here to Help!
Our caring associates are focused on providing you with the very best personalized care to ensure that you're comfortable and at ease. No more worrying about tedious daily tasks like cooking or cleaning! Our range of services extends from independent living to traditional assisted living services such as bathing, dressing, and medication management, and even includes our specialized memory care program servicing the needs of Alzheimer's or other memory impairments. All these services are housed within a safe and attentive atmosphere complete with a 24-hour personal call system and around the clock staffing. You can take comfort in knowing help is always available at Cherry Park Plaza!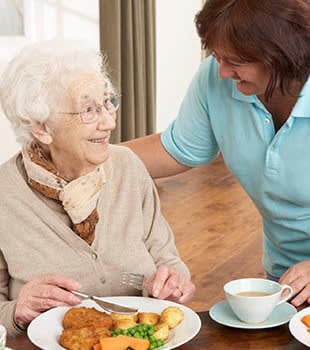 Map & Directions
Is it time for a visit? Click below to get directions to Cherry Park Plaza, directly from your doorstep!